FC/AFC Dale Von Chehalem Mtn, MH RDX CGC
2x OBDC Champion, 2012, 2013 Chukar Champion, 2014 Chukar Champion
AKC FT Career 239 dogs defeated

Talk about March Madness!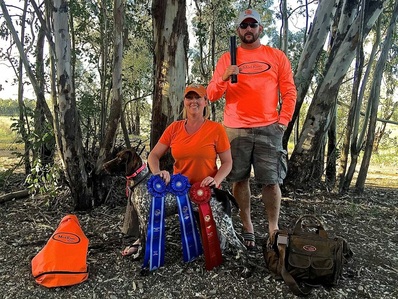 Two of Dale's pups (1 year old) from a previous litter, have gotten off to a great start in the field!

They both received their Junior Hunter titles in one weekend. They had four consecutive passes at a double/double hunt test and got perfect 10s on their last run, where they were braced together!

One of these pups (pic on left) also won Open Puppy, Amateur Puppy and got second in Amateur Derby at a field trial in Northern California!
---
2012 Accomplishments
2012 GSPCO Hannover Award Winner
GSPCA ranked #5 Amateur Gun Dog
NWFTC Ranked #8 overall, #4 Shorthair
12 AKC Field Trial Placements
(4-1st, 2-2nd, 4-3rd, 2-4th) 135 dogs defeated
AKC Field
Earned AFC title
Earned FC title
AKC Show
CGC title earned
Oregon Bird Dog Challenge
2012 Chukar Champion

2011 Accomplishments
AKC Earned Master Hunter Title
passed 5 of 8 tests
4 Field Trial placements
(2-1st, 2-2nd) 39 dogs defeated
Oregon Bird Dog Challenge
2011 high point award (dog of the year)
Earned Oregon Bird Dog Challenge Champion Status

2010 Accomplishments
AKC Earned Senior Hunter Title
passed 4 of 8 tests
GSPCA Earned RDX Water Title