Fly'N Daizie Bird Buster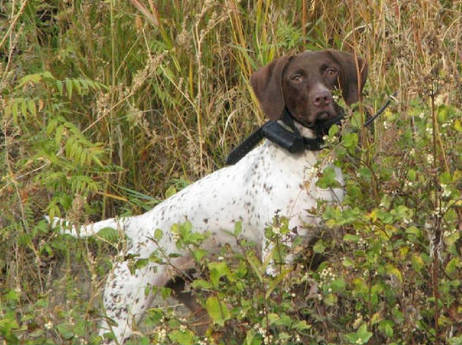 Miss Daizie
...where do we begin? Daizie is definitely in charge. She thinks she is the queen bee and she is. Her personality is awesome. She will "scrowl" at you if she doesn't like what you did (not in a mean way, but rather comical). She looks kind of like Elvis when she does it.
As far as hunting goes, she gives Bess a run for her money. When it comes to retrieving a bird, Daizie will do whatever it takes to bring it back.
During a winter hunting trip, she was tracking a bird on a frozen pond and she cut her chest open on the ice. She did get the bird up and we got to go to the emergency vet! In Montana, a pheasant went down in super thick cover and she would not give up until she recovered it - 30 minutes later.
When Daizie swims, she does so with such beauty and grace. There is hardly a ripple in the water.
Daizie is a shorthair through and through. She has her Junior Hunter and Novice Retrieving Dog titles.
View Daizie's OFA Certification
http://www.offa.org/display.html?appnum=1545135#animal
---